Straight from the horse's mouth.
My family and I are just back from Portugal and I am so excited to share some amazing experiences with you, with our Porto travel guide. On foot or by car, there is so much to explore in the Porto and the Duoro Valley that I'm dedicating this blog just to this region. Come see for yourself!
For the Foodie in You: Our Porto Food Guide
On our arrival day, we took to the streets with our foodie expert, Andre, for a fabulous introductory tour of the city!
We tasted, sipped, and walked our way through Porto's history, culture, neighborhoods, traditions, and cuisines. We weaved in and out of small shops, restaurants, and bakeries sampling cheese, bread, smoked ham, codfish, cakes, sugary confections, sparkling wine, chocolates, more wine, and (no shocker here), port to finish!
Entertaining, educational, and pleasing to the plate – this foodie experience was the perfect experience to kick off our family's trip to Portugal and a fabulous way to get to know a new city.
Our Favorites
What were some of our favorite tastes and sips? Here are our favorites to share in our guide:
Queijo, cheese made from sheep, cow, and goat milk paired with peach and pumpkin jam — Dee-lish!
A smoked ham sandwich served on airy light roll and without condiments, so you could really taste the flavorful ham. Paired with a glass of sparkling vinho verde wine (green, young wine) — Magnifico!
Portuguese custard – and when the pastry shop rings the bell, come get yours! It's the signal to let you know that these tasty treats have just come out of the oven. Yum!
Road Trip to the Duoro Valley
What's the best way to see the Duoro Valley you may ask? Why, in the soft leather seats of a 1975 El Dorado Convertible — of course!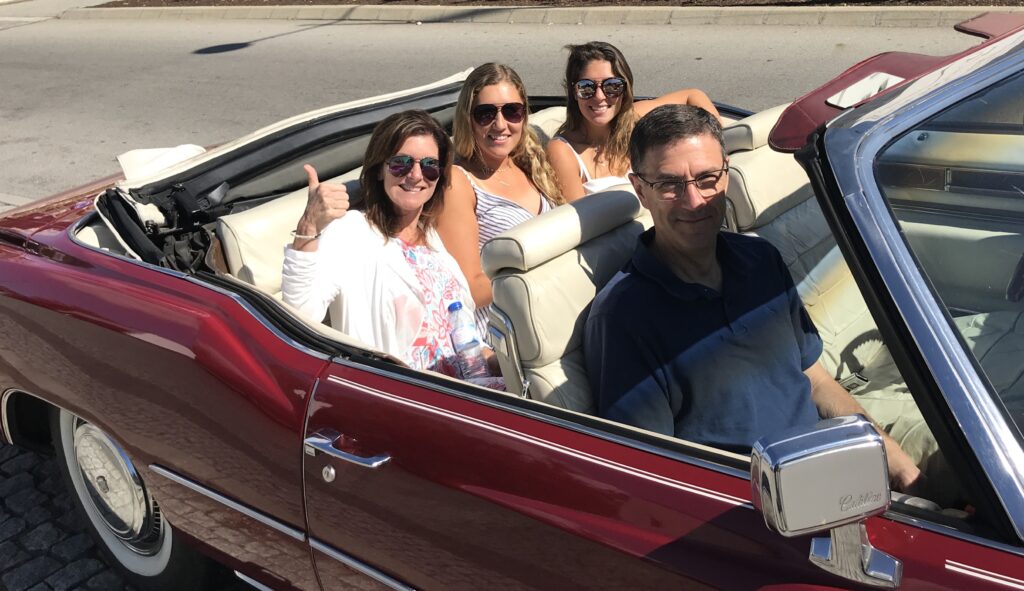 Our first stop was a visit was to Casa de Mateus, a splendid manor house built in the 18th century that showcased a collection of treasures and romantic gardens including a small-scale replica of the rose gardens at Versailles. From there, we took a leisurely drive through the small hillside villages and then on to Sao Leonardo de Galafura viewpoint, where we enjoyed spectacular views of the valley's terraced vineyards, patches of woodland, and majestic Duoro River. This was the perfect setting for an aperitif!
While we cannot argue the road is an incredible way to explore this region, yet another is by boat. So for some time, we traded our convertible for a vintage Rabelo Boat. These wooden cargo boats were used long ago by wineries to get the wine and port to Porto. We sailed past some of the region's most gorgeous vineyards and landscapes while enjoying fresh cheese, fruit, and a refreshing drink of port and tonic.
Last but certainly not least, we cannot ignore a lovely day in the Duoro Valley on our feet. A trip to this region would not be complete without a winery visit. The Quinta de la Rosa was a perfect place to experience the wine and port-making process AND sample some of their finest vintages. What was most interesting was learning that some of the finest wines in Douro Valley still are fermented the good old-fashioned way – by stomping and crushing the grapes for hours! In fact, no machinery is used to grow, plant, or pick the grapes. While the first hour-and-a-half of the fermentation process is meant for serious business and stomping, the remaining hours are spent laughing, dancing, and of course, enjoying the vintage. (Who remembers the I Love Lucy episode where she and Ethel stomp grapes? Classic!) The wineries are always looking for stompers, so if you're ready for some fun, come at harvest time and join in.
Porto – One Beautiful Stop Among Many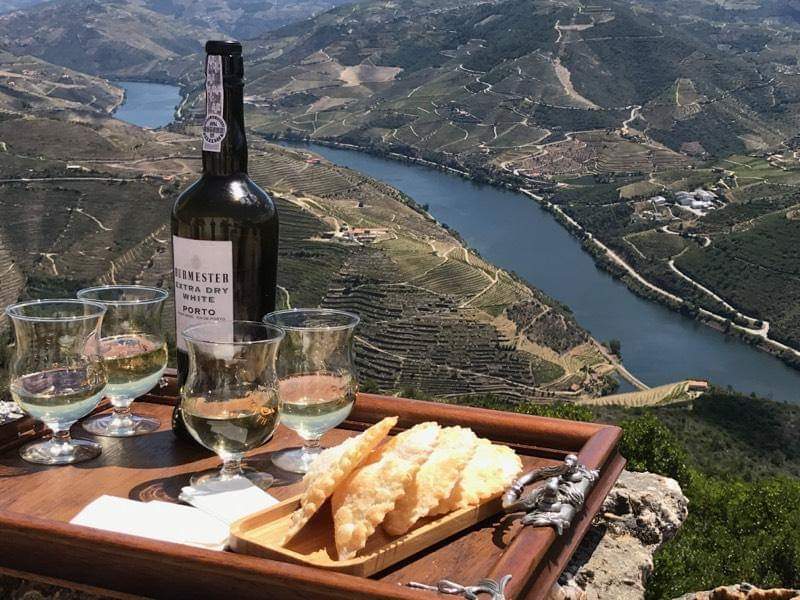 Porto is an exceptional destination to travel to in Portugal, but it's one of many we explored in Portugal. I'd be remiss to not include our other incredible stops like Lisbon, Sintra, Cascais, and the Algarve – all of which are worthy of their own blog. Whether you're into art & culture, sun & sea, outdoor activities, gastronomy, or all of the above – Portugal really does have it all.
If any of these experiences or destinations peek your interest, we would love to help get you there!