Cape Cod is a great place to escape to any time of the year, but fall is my favorite. The crowds have thinned out and the weather is glorious – mild days and crisp cool evenings – perfect for all those outdoor activities by day and warm fires by night. Wequassett Resort & Golf, located just outside of Chatham, is the perfect place to call home for a romantic weekend getaway, a Thanksgiving family holiday or simply, a change of scenery.
Wequassett sits on 27 waterfront acres –the grounds are lush and green, with winding paths and stunning gardens full of colors and scents. Though they were at 100% occupancy when I was there, it never felt crowded – not even close, and this is largely due to all the outdoor spaces – to sit, dine, have a cocktail or simply relax.
Honestly – I was a little anxious about going. Sure, I had been to the grocery store, restaurants (dining outside only or for take-away) and other public places but I had not been away from home on a work trip or vacation since February. Like so many of us, I had so many unknowns running through my mind. What would the dining-in experience be like? How would housekeeping work? Would everyone be wearing masks? How would all of this 'feel?'
I can tell you from first-hand experience, it felt GREAT to be with colleagues at Wequassett – dare I say 'normal?' The hotel has protocols in place to ensure the safety of both guests and staff. Staff members undergo comprehensive Covid training and they all wear masks, have daily temperature screenings, and maintain personal health logs. The entire property is cleaned and sanitized during the overnight hours. Electrostatic sprays are used daily. Guests can choose to have housekeeping – full, partial or none at all. Since I was only there for 2 nights, I simply chose to have fresh towels delivered daily, which was perfect and all I needed.
A picture's worth a thousand words, so enjoy some of my favorite pictures, take-aways and tips from my time at Wequassett!
Stroll the spectacular grounds – truly a gardener's dream, with thoughtful spaces to sit, relax and admire the views.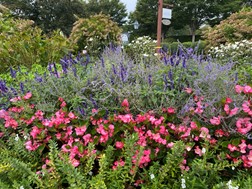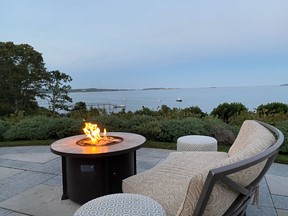 Admire the waters views of Pleasant Bay at sunset on the verandahs outside of 28 Atlantic
Try a cooking class with Chef Chase! Not only is it fun, but he creates menus and dishes that you actually can prepare at home with food from the pantry. I loved his sense of humor and cooking tips. For example, he explained that when sautéing garlic, put the olive oil and garlic into a cold pan, THEN heat it! Cooks perfectly and the aroma will make your mouth water!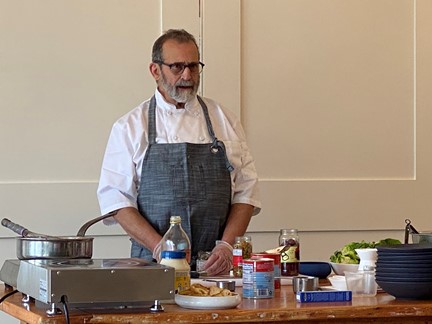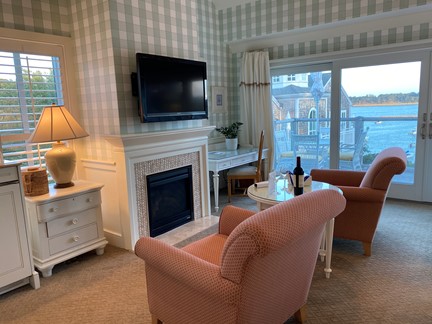 Take some time to enjoy the accommodations at Wequassett! I was in Cranberry #11, a Signature Water View, 2nd floor. It was bright, spacious and beautifully appointed. Loved the full on water view from my private balcony – a great spot to enjoy in room dining! The indoor gas fireplace is perfect for a chilly night or simply for some instant ambiance.
Take a short drive to the seaside town of Chatham and explore the vibrant downtown area, filled sea captains' homes, unique shops, galleries and restaurants. At the end of the day, return home to your peaceful oasis.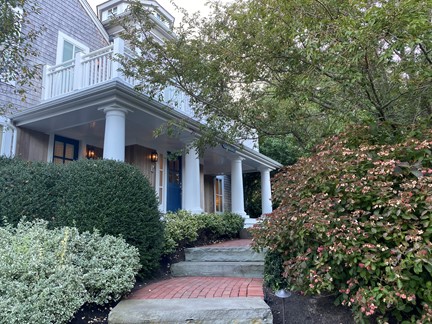 ---
Other take-aways and tips:
A Standard Villa is the entry level room; Signature Collection is the top-tier accommodation. Some have outdoor fireplaces, jacuzzis and/or fire pits – while others do not. Views range from garden to full water view. All rooms have either a King or 2 Queens. Some room categories have tub/shower combinations. Accommodations vary so I'm happy to assist you in finding one that meets your needs!
There are many connecting room options. For example, in Cranberry, the 4 rooms on the ground floor can connect, as can the 4 rooms on the upper floor.
If you love your morning coffee, you'll be pleased to know there are Keurigs in all the rooms!
Have you ever wanted some salted nuts from the mini bar but looked at the price and decided to pass? Well Wequassett's mini bar selections are offered at cost – no mark-up is added. Nice touch!
There's a complimentary launch to the Outer Beach (20 mins), part of the Cape Code National Seashore. This outing is a must – with the open Atlantic Ocean on one side and the serene Pleasant Bay on the other side – grab a picnic lunch and make a beach day of it! Complimentary chairs, umbrellas and towels are provided.
Wequassett Views is a weekly publication highlighting guest activities and a copy is available in every room. Choose from yoga, seal cruises, wine tasting, or boot camp, to name a few. For families, there's variety night – think flashlight tag, games and a movie on the big screen. And for the adventurous, how about scavenging the sands and seas in search of buried pirate treasures? The programs change week-to-week, season-to-season. This is just a sampling!
There's so much to see and do on the Cape in the fall! You can stroll the National Seashore, go birding on the tidal flats of Monomoy National Wildlife Refuge, cycle on the Cape Cod Rail Trail and take walks through the brightly colored forests and nature paths. For golf enthusiasts, how about a round on the Cape Cod National Golf Club, rated one of the best courses in Massachusetts by Golf Digest?
Fun fact: Did you know that Wequassett is the Wampanoag Indian name for 'crescent on the water'? It's not known if Wequassett was named for the crescent shape of the sand spit on property called Clam Point or whether it has to do with the Wampanoag's ecclesiastical calendar, which begins at the first appearance of the first crescent moon of the vernal equinox. Either way, I think it's always fun to know the history behind places and names!
Have I piqued your interest? If so, and you're ready for a special getaway on a quintessential Cape Cod property, we'd be happy to make all your arrangements at Wequassett!
---
If you enjoyed this blog post,
we welcome you to read our others too!