You had me at SAFARI.
Straight from the horse's mouth.
We were thrilled to host two "educational" Simply Africa cocktail parties recently and we learned so much from those who attended – and created a Luxury Safari Travel Guide. We covered a lot of ground during these evenings and the interactions between myself, our partner at AndBeyond as well as our guests, brought out many of the questions on people's minds. No surprise, really, since we are talking about a continent as big as the US, China, India, and the whole of Eastern Europe combined and activities ranging from safaris to gorilla trekking to hot air ballooning to great white shark experiences – and everything in between!
We've captured the key points from the presentation as well as your questions and put them all in one place for your reference and create a complete Luxury Safari Travel Guide. We hope you enjoy reading our takeaways! At the end of the takeaway section of our Luxury Safari Travel Guide, please read on to learn about how we can help you plan an extraordinary African travel experience.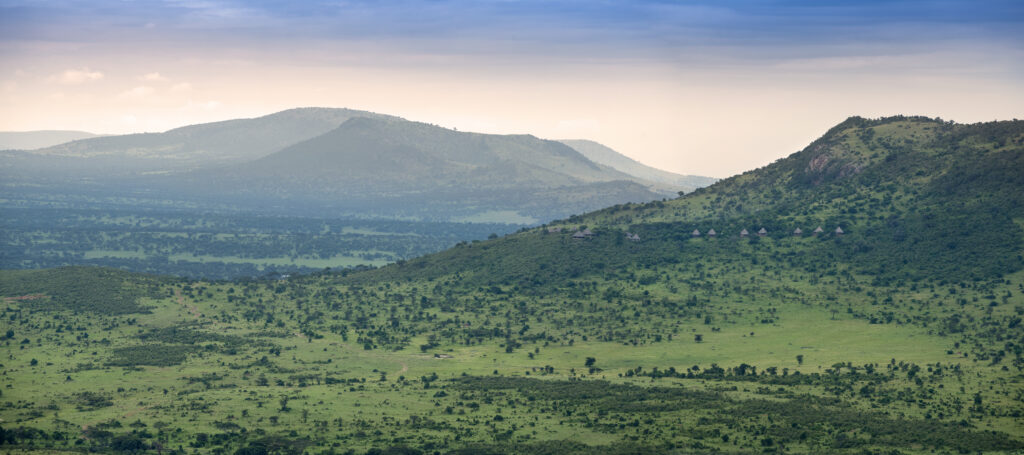 Serengeti, Tanzania
Simply Africa…. Takeaways
When is the best time to go to Africa?
This was a big question that many of you had and it's a hard one to answer when we're talking about such big geography. That said, here are some general guidelines that focus on when you'd have the best chance of seeing wildlife in a particular country or region. In our 'educational' discussion, we talked about the seasons, water availability, and animal habitats, all of which are important to game viewing. For example, during the dry season, wildlife tends to congregate around watering holes, thus making them easier to spot. In contrast, during the 'green' season, animals have plenty of food/water and therefore spread out. They also are better camouflaged by the vegetation making them harder to see. For the photographers, however, lush plains make for great imagery – so really, there are nuances and charms to each season. Of course, there are no guarantees when it comes to seeing wildlife, but you can improve your odds depending on what time of year you visit. Remember, what's presented below are merely guidelines: We will go into this in far more depth at the onset of the planning process.
East Africa: Kenya, Tanzania, Uganda & Rwanda:
Best time to go:
Kenya & Tanzania – anytime except April to the end of May; this is the long rainy period
Rwanda & Uganda – anytime
Southern Africa: South Africa, Botswana, Namibia, Zambia, Zimbabwe, Mozambique
Best time to go:
South Africa – a year-round destination, so you can visit ANYTIME.

Northern regions

Summer is October –March, with hot days and afternoon thunderstorms; rainy season, November – April
Winter is May-September; warm to cool days, no rain

Southern regions (e.g. Cape Town)

Summer is October to March (December- May = best time to visit)
Winter is May to September, warm to cool days with rain

Botswana & Zambia
Namibia
Mozambique

April to November, the rainy season is December – March
What are the key highlights in East and Southern Africa?

Our Luxury Safari Travel Guide is just a starting point. We will have a more comprehensive conversation with you on what to see and do when we start the planning process.
East Africa:
Great Migration – Kenya & Tanzania

Wildebeest make up the largest number in the annual migration (along with zebra and other game)– move in search of food in a cyclical pattern through the Maasai Mara-Serengeti ecosystem (Kenya/Tanzania)

Cultural tribes, Samburu and Masai; Numerous national parks and private reserves – Tanzania & Kenya
Ngorongoro Crater, home to approximately 30,000 animals; Olduvai Gorge, site of the remains of mans oldest ancestors – Tanzania
Mt Kilimanjaro, Mt Meru – Tanzania
Spice Islands of Zanzibar and Pemba –where you can combine cultural discovery with excellent snorkeling, diving and beaches – Tanzania
Gorilla trekking – Uganda & Rwanda
South Africa:
Johannesburg; Lots of history – Soweto, Apartheid Museum, Cradle of Mankind; excellent accommodations, first world infrastructure and many world class restaurants.
Kruger National Park as well as an additional 500,000 acres of private reserves (e.g. Sabi Sands). Excellent wildlife experiences.
Cape Town & Cape Region; Table Mountain, Cape of Good Hope, Robben Island; Winelands (Franschhoek, Stellenbosch), V&A Waterfront; fabulous accommodations options; excellent cuisine; markets, lush gardens, and sandy beaches.
Botswana, Namibia, Zambia, Zimbabwe & Mozambique:
Okavango Delta, the largest inland delta in the world; Chobe National Park (largest elephant herds in the world); Moremi Game Reserve (exceptional birdlife); – Botswana
Namib Desert and the incredible dunes; Skeleton Coast; Estosha National Park – Namibia
Pristine, unspoiled wildlife havens; birthplace of the walking safari; Victoria Falls- Zambia (less visited than from the Zimbabwe side)
Victoria Falls; Lake Kariba – Zimbabwe
1,550 miles of beautiful beaches; azure waters of the Indian Ocean; great scuba diving and snorkeling; excellent deep-sea fishing/angling; dugong (related to the manatee) and dolphins – Mozambique
How much does a safari cost?
Many people came up to us after the presentation and asked about cost. This is probably best addressed during our initial call and we're happy to give you guidance on the various ranges – moderate/luxury/top end – so you can get an idea as to cost. Other considerations are your travel dates and your flexibility. Travel during the shoulder season is a better value than during the summer months or winter holidays when pricing tends to be most expensive. Remember too that game lodges/camps may seem expensive at first blush, but keep in mind they include your accommodations, game drives (2 x per day), all meals, all non-premium drinks as well as laundry. Safaris are a good value for honeymooners because they benefit from promotional pricing as do families with children.
We are thinking of a multi-generational trip. Is there something for everyone in Africa?
Absolutely – it is an ideal location for all ages. There are some age restrictions on some activities (game drives, for example) but we'll hash all that out during the planning process.
Will I feel safe on this trip?

We do all that we can so that you do! We believe that preparation goes a long way to ensuring your health and safety on any trip. We will provide you with tips, lists (packing, reading etc.), and resources (VISA, STEP, CDC) – because the more you know ahead of time, the better prepared you'll be.
But how about once I'm in Africa? How will that work and will I be on my own?
Let me shed some light here. We only work with the very best in-country partners in Africa (and throughout the world). It's our job to handle the logistics and make sure everything is seamless for you. So when you travel with us, you'll be in our capable hands from the time you arrive to the time you leave, 24 hours a day, 7 days a week. And while everything will be clearly outlined in your travel documents, should there be a 'bump' along the way, we'll be there to smooth it out for you. Your only job is to relax, make memories, and savor the experiences!
What type of lodging is available?
There are a wide variety of unique lodging options available to you. To name a few, there are mobile and permanent tented camps, luxury lodges (including those in the trees), private villas, and more. We'll work to find the one that is best for you and your fellow travelers.
How many days should I stay?

We recommend that you allow at least 12-14 days for a trip like this. Truly, many of the things we'll discuss in our Discovery Call (see below) will play a big role in shaping your itinerary – including the best time to visit. It's like pieces of a puzzle and we do all we can to make sure they all fit!
How far in advance do I need to plan a trip to Africa?
Great question! If you are flexible with your travel dates, then 6-9 months should be fine. However, if you have a specific travel window or plan to travel over the summer or winter holiday period, you need to start the process 12-18 months out. The same goes for multi-gen or group travel because accommodations designed for this sort of travel book well ahead of time – and space is limited. In my opinion, it's never too early to start planning for Africa!
Is it possible to enjoy the beach and do a safari in one trip?
Yes it is as long as you give yourself enough time! For example, from East Africa, you could enjoy Zanzibar or the Seychelles. We can discuss all the combinations for the beach as well as other destinations that might be of interest during our initial Discover Call.
How long does it take to get there?

If you're headed to Johannesburg South Africa, there are daily non-stop flights from JFK. The flight time is about 14 hours. If you're headed to East Africa, and say, starting in Tanzania, expect flight times to be 17+ hours from JFK to Kilimanjaro International Airport, depending on connections and layovers. Once we know your travel dates, our air specialist colleagues can assist with the best routing and schedules.
What sort of activities can we enjoy?
The safari experience is the highlight of any African travel experience. Here, you'll experience incredible wildlife on game drives and walking treks. But what else is there to do? Here is just a sampling: canoeing, kayaking, white water rafting, scuba diving, snorkeling, deep-sea fishing, hiking, horseback riding, heli/ballooning, bungee jumping, mountain biking, whale watching, white shark experiences, birding, and photography/photo safari. Just let us know what you like to do and we'll make it happen!
Planning for Africa – let's get started!
This Luxury Safari Travel Guide is only the start of a remarkable trip that awaits you! At Saddle Hill Travel we specialize in making every travel experience as unique as our clients. We do this by understanding you on a personal level and crafting unique experiences tailored to your tastes, preferences, and interests!
Getting to know you.

An extraordinary travel experience starts with a thorough "Discover Call." During this conversation, we'll discuss the travel experience you have in mind. You'll be doing most of the talking; I'll be asking questions, listening, and taking lots of notes. You don't need to know where you want to go in Africa or how you'll get around once you're there – you simply need to tell me about yourself and your fellow travelers – I'll take care of the rest.
Peeling the onion.

What will we talk about? Lots of things, such as why you're going on this trip and who is going with you. We'll dig into your likes, dislikes, preferences, interests, hobbies, and even concerns – as well as those of your fellow travelers. The more you can share, the better – and by the way, I love stories – and did I mention I'm a good listener? We'll talk about past travel experiences – your favorite ones and the ones that didn't quite live up to expectation (and why was that, by the way?). We'll talk about when you can travel and if your dates are flexible or firm, your lodging expectations, and what can make this truly a WOW experience for you. If you have a budget in mind, great! If not, I'll give you guidance as to what a moderate/luxury/top-end experience would look like. The key thing to take away from this part of the process is that I'm trying to discover all I can about you and who you are as a traveler so I can make your adventure truly yours.
We hope you enjoyed this Luxury Safari Travel Guide, and we look forward to speaking with you and to planning your life-changing travel experience to Africa. Shall we get started?? Contact our Massachusetts Travel Agency today.
[Note: Photos courtesy of: AndBeyond & PixaBay.com]