Explore The Faroe Islands: Enchanting, Remote and Unspoiled
We recently caught up with Nordic specialists at The Luxury Travel Designer to learn more about the Faroe Islands, including traveling to the islands, tourism, climate, food experiences, and activities. We hope you find this travel guide Q&A as interesting as we did and, just maybe, be inspired to visit too!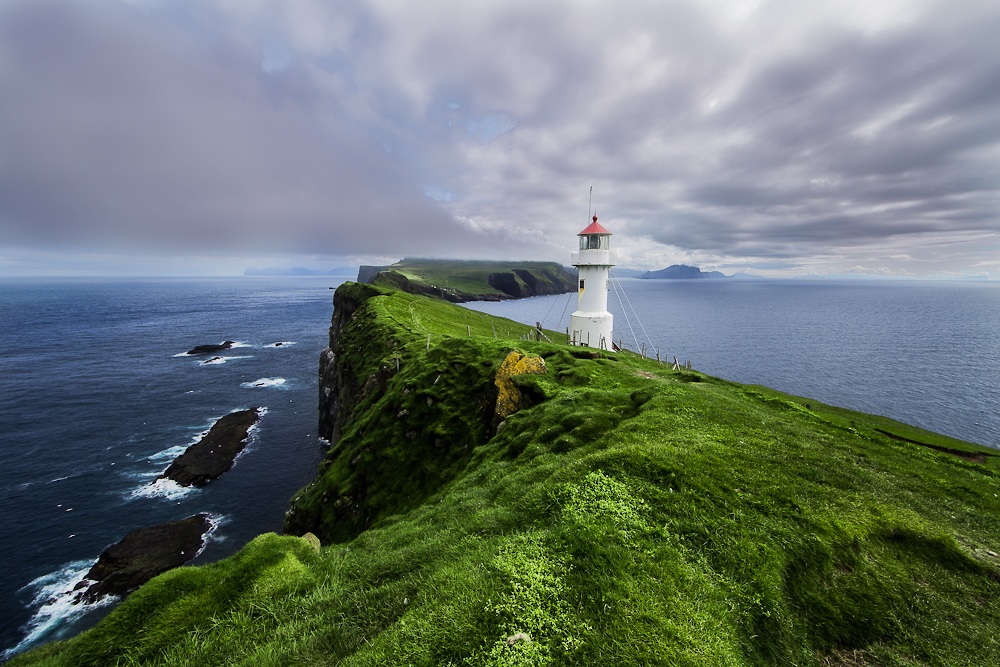 Just where are the Faroe Islands?
The Faroe Islands are located between Iceland and Norway.
Why visit the Faroe Islands?
Well, simply said, they're unlike any other place on this planet! From imposing seaside cliffs to lush green valleys to peaceful moorlands, they are mystical, magical, and enchanting. Faroe Islands tourism is still developing and can be described as 'rugged' in more than one sense of the word!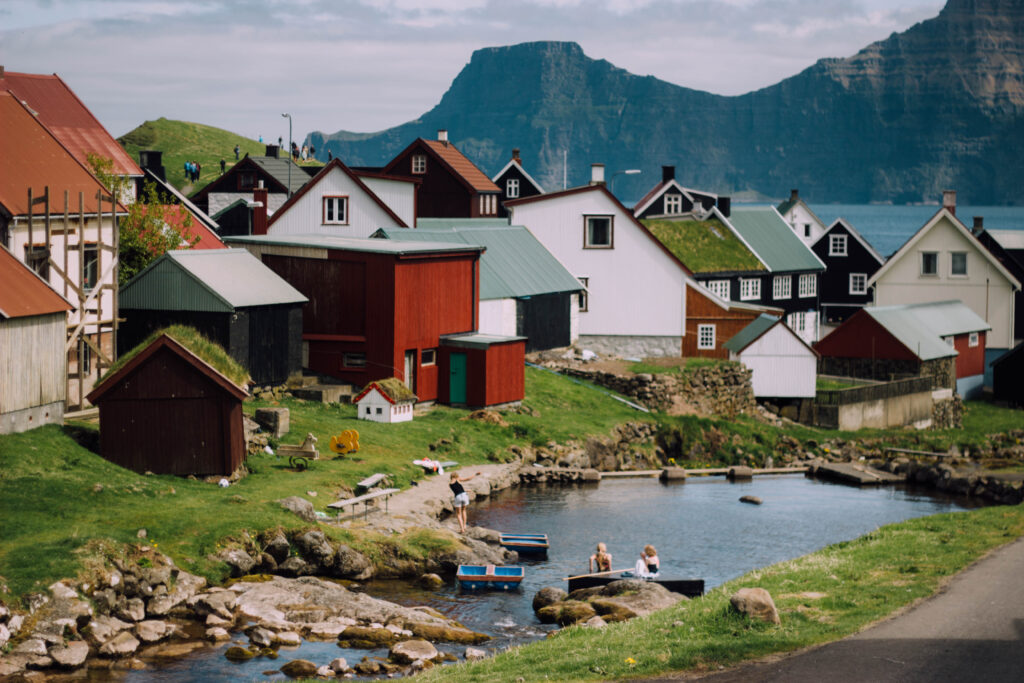 How do you get to the Faroe Islands?
The Faroe Islands can be easily reached within the Nordic region. There are direct flights from Copenhagen, Denmark (~2 hrs 15 mins), Reykjavik, Iceland (~ 1 hr 25 mins) and Bergen, Norway (~ 1 hr 20 mins). The Islands combine nicely with a journey throughout the region and offer a great contrast to the other Nordic countries.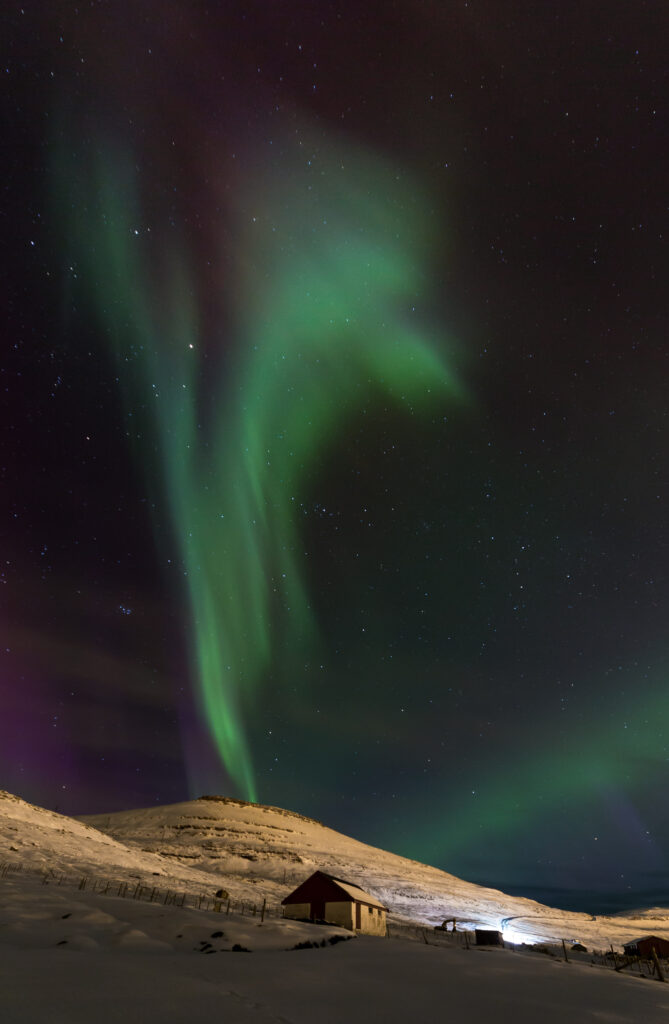 What is the population, climate and infrastructure like?
The Faroe Islands consist of 18 volcanic islands separated by narrow sounds and fjords.
All but one of the islands are inhabited and are home to about 52,000 people. 21,000 live in and around the capital Tórshavn.
The climate here is cool, with temperatures throughout the year between 37F and 52F – thanks to the Gulf Stream. The weather is changeable too! It can be foggy in one town and clear in the next, raining in one valley and sunny on the mountain. The changing weather is one of the most fascinating features of the islands, as most travelers never have experienced so much weather in such a short space of time!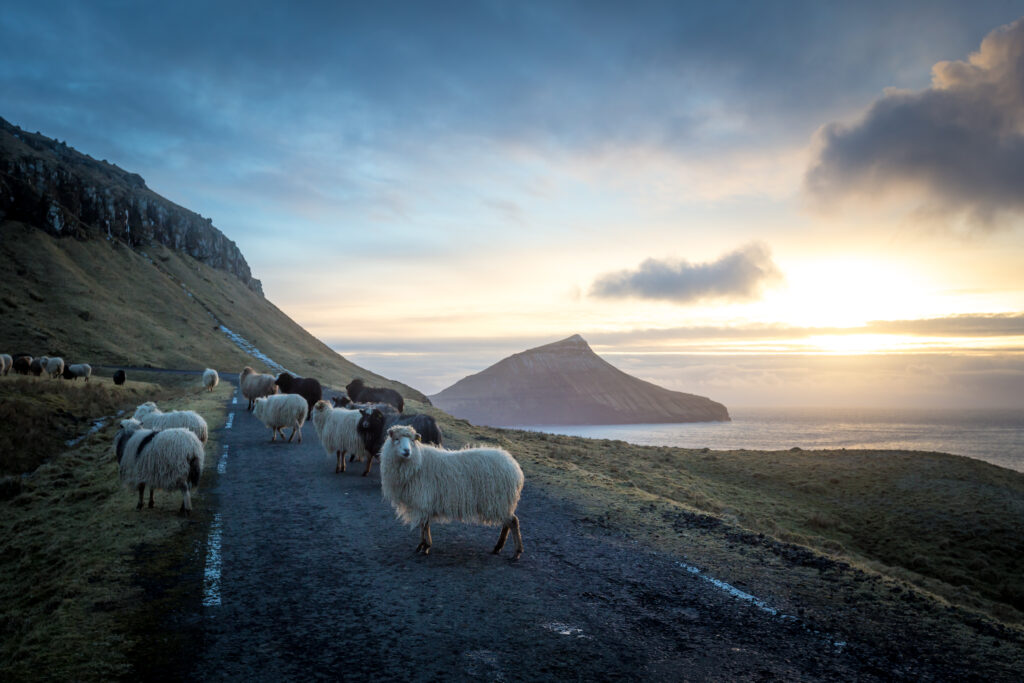 Getting around on the islands is rather easy. There is an extensive road network with bridges and subsea tunnels connecting most of the islands, and driving distances are relatively short.
Those not connected by bridges or tunnels are connected by ferry service.
What sorts of outdoor activities are possible?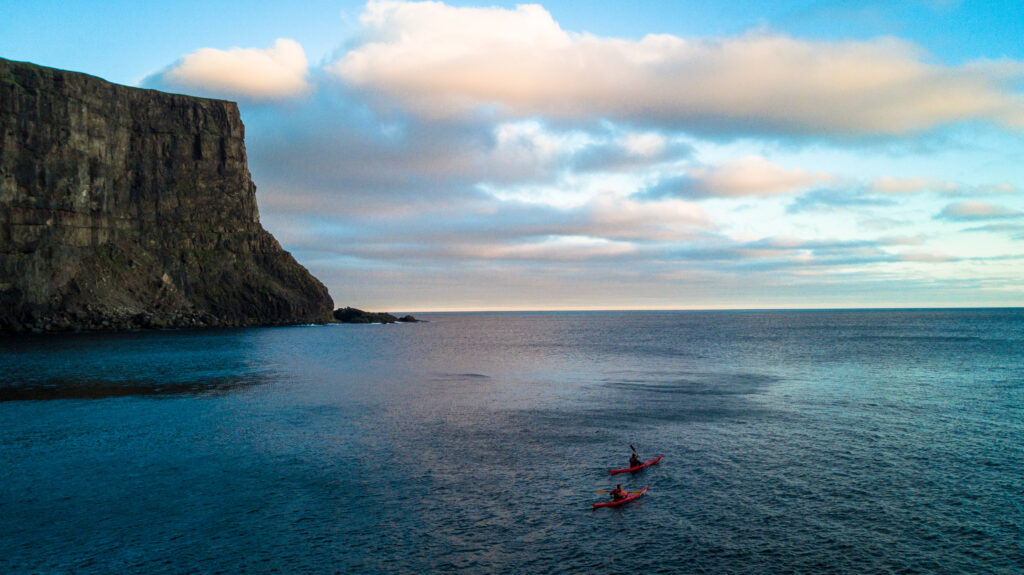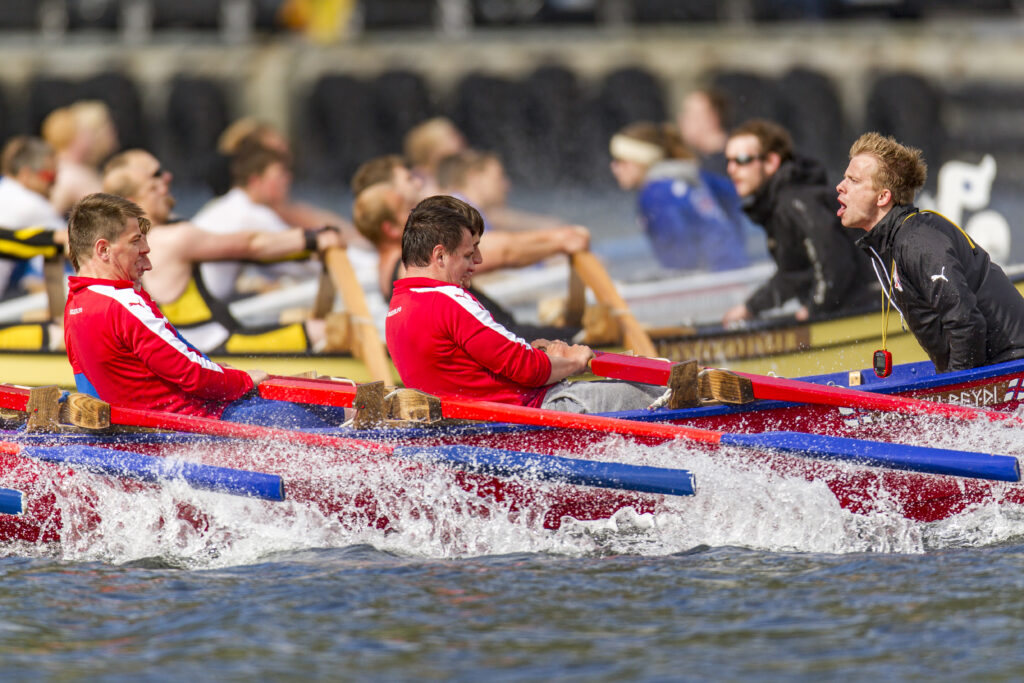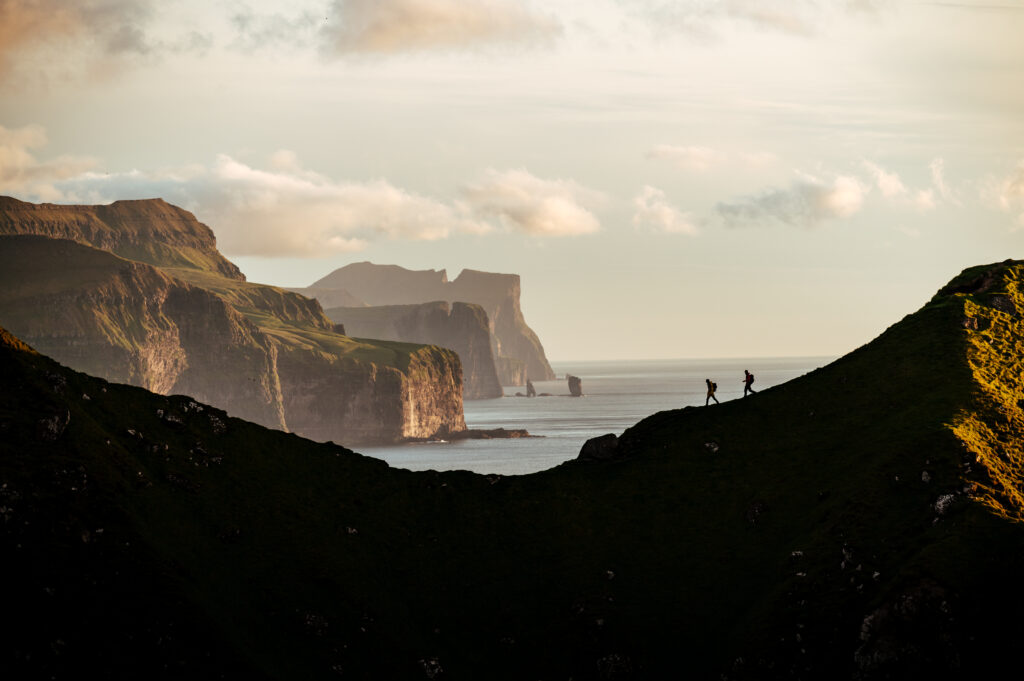 Kayaking – Kayaking can be done nearly anywhere and is a great way to explore the natural beauty of the islands at sea level.
Zodiac Safaris – RIB or zodiac safaris allow you to get extremely close to bird cliffs, land, seals, whales, and through sea caves. For those seeking a 'gentler' experience, boat tours can be found all over the islands, and exploring by water can offer a fun perspective on the unique typography found here.
Climbing – Climbing, in a sport sense, is just only beginning to take off in the Faroe Islands but is quickly gaining popularity, along with rappelling. These two activities have been around on the islands for centuries, as this was how locals would collect puffin eggs.
Zip Lining – Zip lines can be found in certain locations around the islands and are usually combined with swimming, cliff-jumping, and cave exploration. Cliff jumping-adventures can be adjusted for most – so long as you are open to the experience.
Hiking – Hiking possibilities are available at every turn. Keep in mind that many paths are narrow and natural, with steep inclines, declines, and rocky terrain – so your hike will depend on your fitness level. There are a few milder hikes that can be combined with village walks and local lunches – which always a fun way to explore a new destination.
Fishing & Angling – Beautiful scenery and splendid tranquility make fishing and angling in the Faroe Islands a truly extraordinary experience. North Atlantic waters offer exciting catches like king-size plaice and good size haddock. On a good day you may get up to 10 different species, and if you are lucky, you may even catch halibut. What better way to end your day, than by eating your catch? All of which can be arranged!
What are the accommodations like in the Faroes?
Most properties are located in the capital, Tórshavn. Properties are simpler and much more basic than elsewhere in the Nordic Region. There is a small range of properties available in Tórshavn, and alas, none can be described as luxury.
Hotel Føroyar is located on the hillside overlooking Tórshavn. They are currently expanding the property with 70 new rooms and the expansion will be complete in August 2020. To get to the city center there is a 15–20-minute walk downhill; more when coming back.
Hotel Havgrim is a small property located by the shore, a 10-minute walk from Tórshavn itself. It is still simple, so should not be thought of as luxury, but offers a more intimate stay than the larger properties.
Hotel Tórshavn is located in the center of Tórshavn, and is another basic property. That being said, it is in the heart of the city, so offers a great location, which some travelers may prefer.
Hotel Hafnia is another relatively basic option in the center of Tórshavn. Here, rooms vary greatly in size and quality, though none are luxurious. The location is great, in the heart of the city.
The Hilton Tórshavn is currently under construction and will feature 131 guest rooms, a restaurant and a spa. It is due to open at end of 2020.
And in Gjógv (outside of the capital)
Gjaargardur, is a charming guesthouse! This is not a luxury property in its amenities, fixtures or fittings, the true luxury here is in the people. They are so warm and welcoming and full of song that a stay here can be a true highlight of a travelers' journey through the Faroes.
Are there foodie experiences in the Faroe Islands?
YES, and a must for any visitor is an "heimablidni" experience. This translates to "home hospitality" and all across the islands you can enjoy authentic, intimate dining experiences in people's homes. In addition to enjoying traditional homemade Faroese food, you will have the chance to interact with fun-loving locals who will share interesting stories about family, community, and their way of life.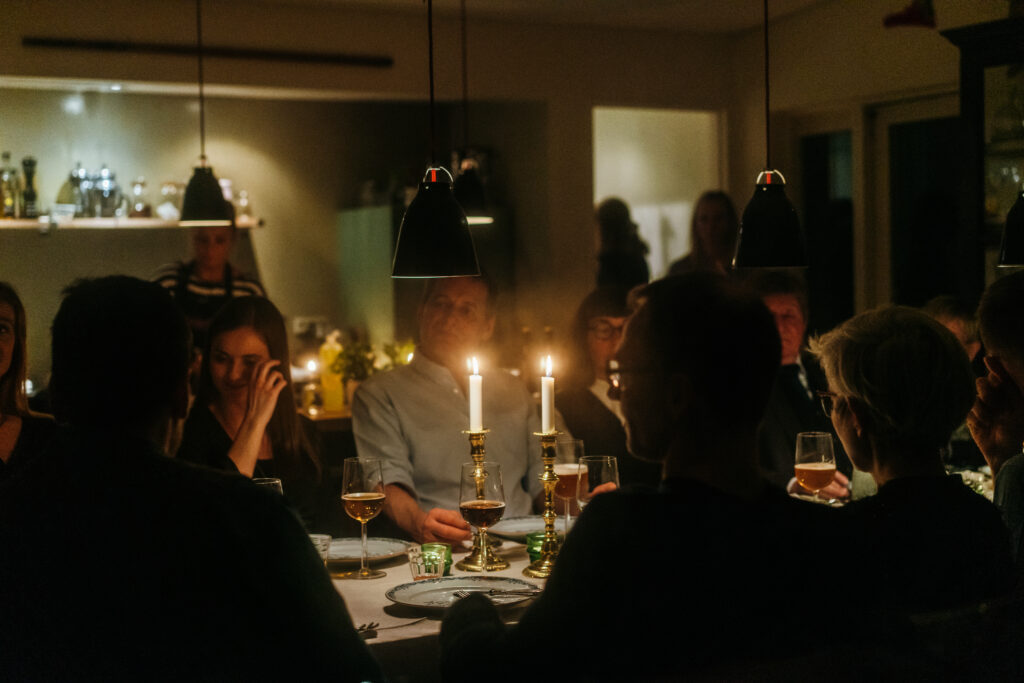 And, if you're interested in a Michelin star culinary experience, look no further than KOKS – widely regarded as the best restaurant in the Faroes. Their focus is on innovative, traditional Faroese food, giving guests the chance to taste the Faroes and the seasons through local produce.
Can you tell us a bit about the capital, Tórshavn?
Tórshavn is the capital of the Faroes and home to around 21,000 people.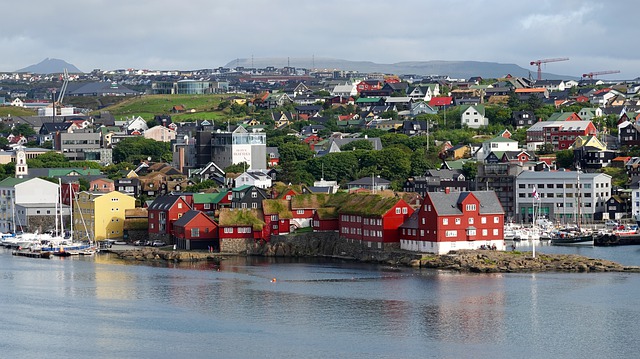 Many travelers use Tórshavn as a base when exploring, partly because the accommodation options outside of the city are limited and much more rustic. The city itself is quaint and charming – it isn't uncommon to see baby strollers left on the streets holding sleeping babies, whilst their parents enjoy a cup of coffee inside a nearby cafe. The city is safe, and the local sentiment is that the cool fresh air is good for the infants. Here, you can also experience some the islands' oldest history — this is the location where their parliament first met during the Viking ages, in 825, and thus is one of the oldest parliamentary meeting places in the world.
There are also a number of restaurants located in this capital city, offering a wide variety of meals, including dishes focused on fish, meat and fermented foods. Fermenting food is a Faroese tradition and for adventurous foodies, local cuisine provides an interesting taste experience they are unlikely to find elsewhere.
What day trips from Tórshavn do you recommend?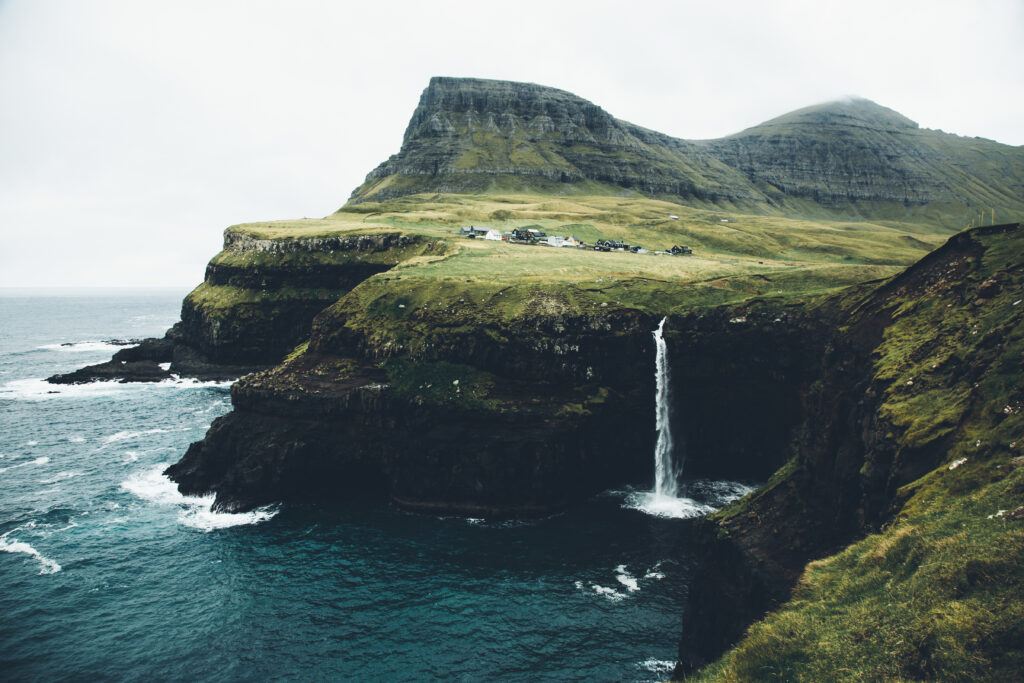 Gásadalur
Gásadalur is arguably home to one of the most iconic images of the Faroe Islands and the village itself is small, and home to just 18 persons! The image of the waterfall tumbling in front of the village and mountain is often used to represent the islands. Despite looking remote, Gásadalur is easily reached by road and is located only 20 minutes' drive from the airport, so is often visited on arrival or departure.
For those who like hiking and are able to follow a more demanding trail, it is possible to hike over the mountain from the neighboring village of Bøur. This challenging hike is about a 5-hour round-trip, and follows the route the postmen used to take to the village.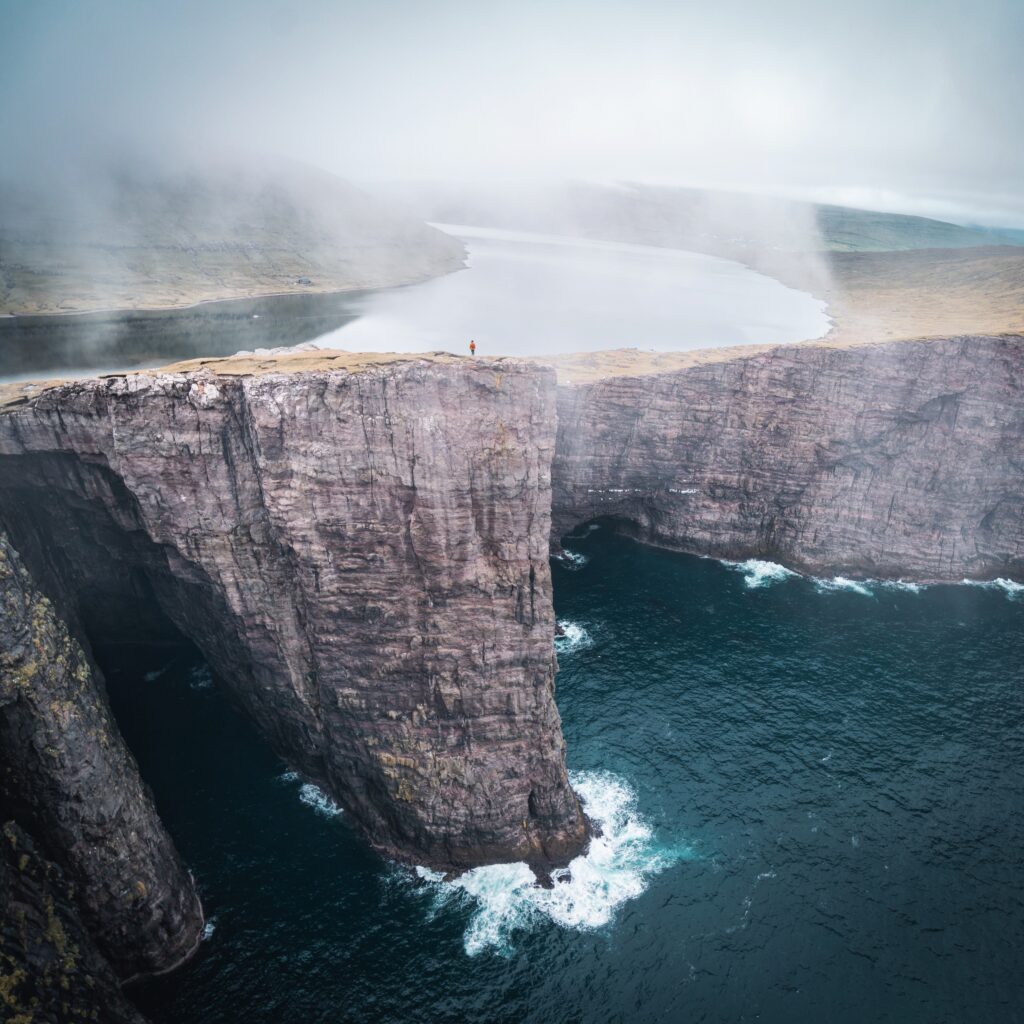 Lake Sørvágsvatn
Can you say photo op? Yet another iconic vista that can be seen by taking a relatively easy hike up a high cliff and looking back down over the lake. Here, it simply looks like the lake is hanging over the ocean!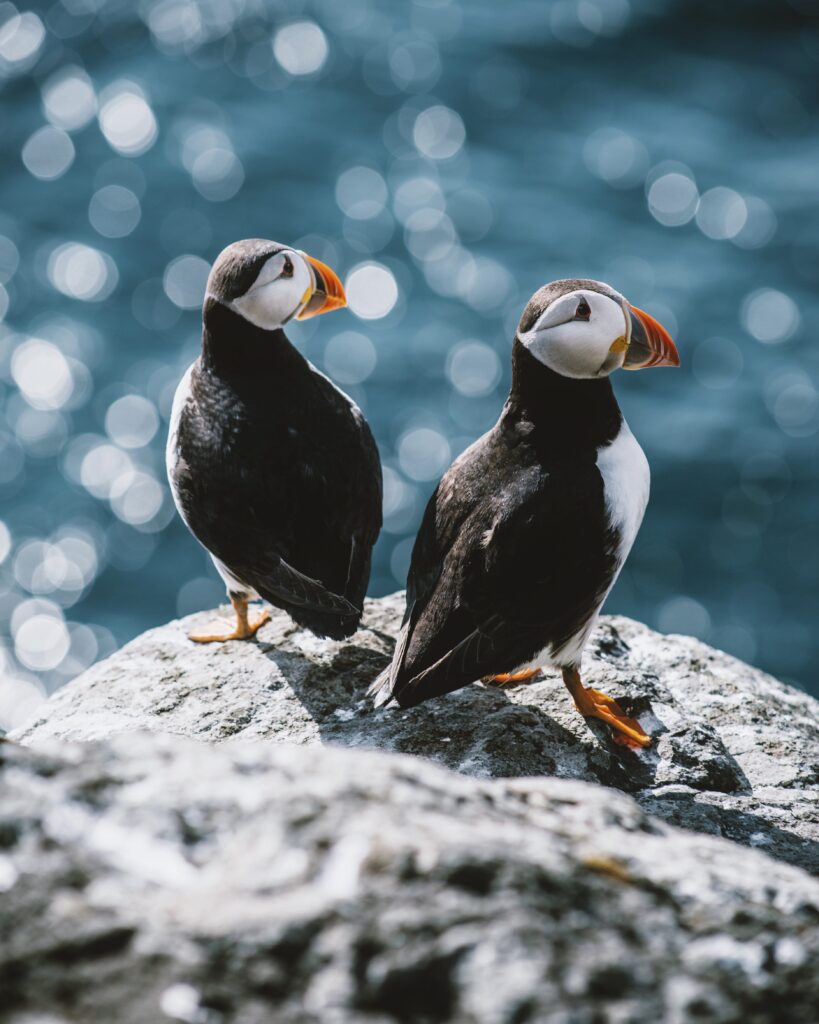 Island of Mykines
This island is a must see for many, especially bird enthusiasts, who want to get close to the large puffin colonies that are found here. You must hike up to the area where the colonies are located, all the while, passing by cliffs filled with other gorgeous seabirds like kittiwakes and gannets! This is a relatively demanding hike, with steep inclines, so is only suitable to hikers with a good fitness level. Puffins only come on land to nest, normally around mid-June and head back to sea by end of August. Between May and June, it is best to find them at sea, because that's where they find their mate!
Today, the Island of Mykines is home to about a dozen permanent residents. There is a small cafe in the town and the only accommodation to be found is a small guest house and a youth hostel. Guests arrive either via boat or helicopter, depending on the weather.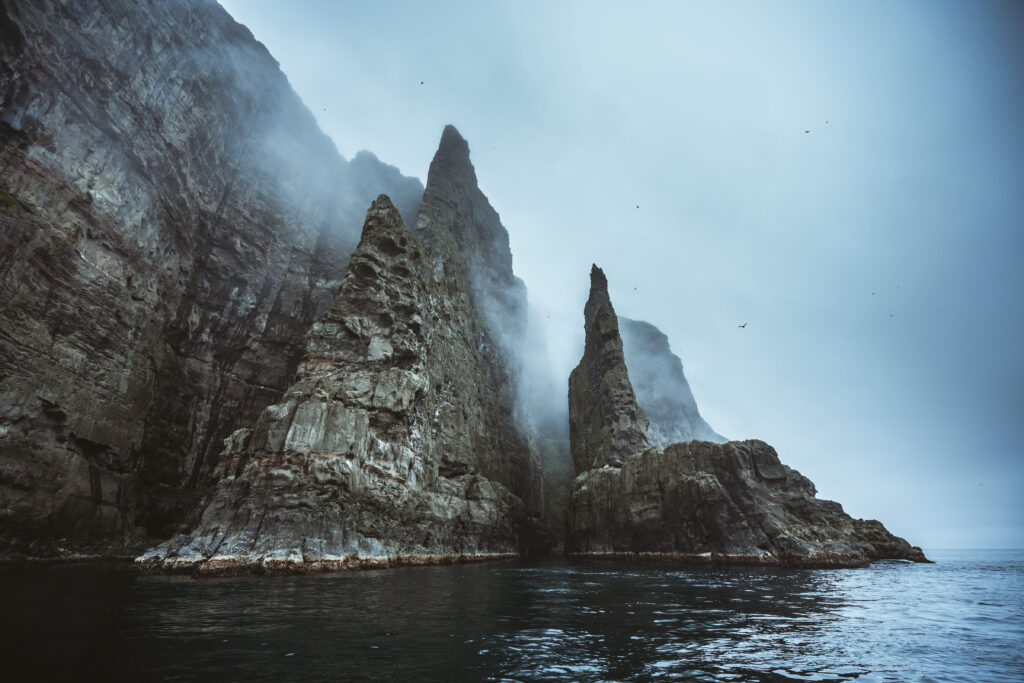 Vestmanna
This famous town in the Faroe Islands, is on the west of the island of Streymoy, just 35 mins from the capital. Visitors come to here to head out to the Vestmanna bird cliffs, by boat.
From the ocean, you will experience deep grottoes, narrow straits and 700-meter high cliffs soaring up towards the sky. These cliffs and caves provide safe nesting places during the summer months for thousands of sea birds, such as puffins, razorbills, guillemots and fulmars.
Stopping by the Saga Museum is one great beginning or end to your day. Here, you'll learn about the early settlers through our modern times.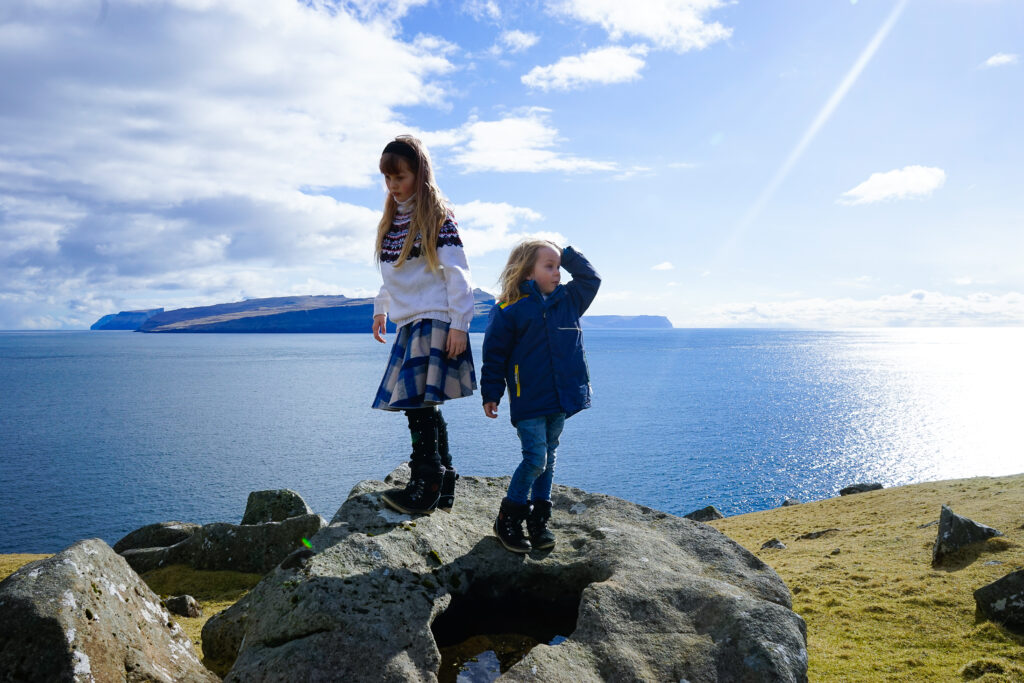 Saksun, Tjørnuvik and Gjógv
Most travellers who visit the Faroe Islands will want to include these picturesque villages. Driving to these locations also means you naturally follow some of the most scenic routes of the area! The small village of Saksun, with the turf roofed buildings is probably one of the most photographed in the Faroes. Next, about 40 minutes from Saksun you will find Tjørnuvik, which is nestled in a deep valley with no other villages in sight. Here, you can visit an older man who sells waffles from his kitchen, a true meet-the-locals experience! From the village and beach you can see over to the sea stacks of Risin og Kellingin. The story goes that these stacks were once a giant and a witch who were trying to steal the Faroe Islands and bring them to Iceland!
If you want to add a bit more activity to your day, you can hike from Saksun to Tjørnuvik. The hike takes around 3 hours, offers amazing views and can be done year-round with an expert guide.
And finally, there is Gjógv, a 50-minute drive from Tjørnuvik. The village was named after a 200-meter long sea-filled gorge that runs north to the sea from the village. There's a wonderful hike to a trail leading from the village up to the nearby mountain and cliff where the views are spectacular.
Kirkjubøur
This is one of the most historic Faroese sites, located just a 15–20-minute drive from Tórshavn. In the Middle Ages, it was the spiritual center of the society. Here, you can find some of the country's most important historic sights including:
The ruins of the Magnus Cathedral from 1300
Saint Olav's Church from 12th century;
Historic farmhouse dating from 11th century, lived in by 17 generations of the same family.
Here, not only can you discover the history of these ancient walls, but it also is fun to meet with the Magnusson family who live here and discover their family history! You also can hike between here and Tórshavn. It's just 4.5 miles one way and brings you through stunning landscapes as you travel over the mountains.
There really is so much for every kind of traveler here – whether you are young or old, have a sense for adventure, maybe history, or simply in need of some serenity and experience somewhere new– a vacation to the Faroe Islands would be a wonderful choice, and worth the visit. Together, let us craft your perfect Nordic itinerary with our expert partners at The Luxury Travel Designer!
---
If you enjoyed this blog post,
we welcome you to read our others too!