New England is blessed with four distinct seasons making it a perfect place to travel any time of year. But there's something special about summer – whether it's the lush green mountains and tranquil lakes or sandy beaches and charming coastal towns – New England is definitely at the top of many travelers' wish lists.
The world is opening up, albeit slowly, but given we've all been cooped up for weeks (okay, months!), most of us are ready or hoping to vacation once again. Here are just a few of our top luxury resorts in New England to visit in the summer months.
4 New England Hotels & Resorts for Summer Travel
Twin Farms
Barnard, VT
about 2.5 hours from Boston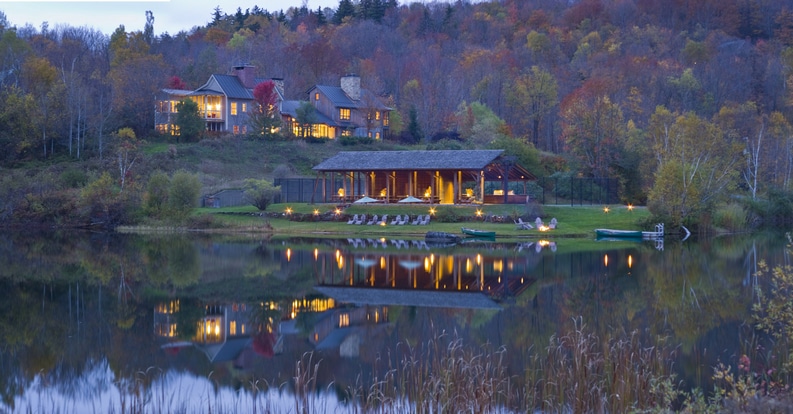 This Relais & Chateaux gem, formerly the country home of Sinclair Lewis and his bride, Dorothy Thompson, is spectacularly private and romantic and adored year-round by couples and families (14+) alike. Each room, farmhouse suite, or intimate cottage is uniquely designed, and the amenities and services will make your stay as adventurous and social, or serene and private as you wish.
Set on 300 acres of woodland and meadows, outdoor activities abound at Twin Farms – from fly fishing to tennis in summer, to snowshoeing and skiing (X-C and alpine) in winter. In addition, the culinary experience at this luxury resort is an integral part of any stay at Twin Farms. Selections change daily and since there are no menus, farm to table dishes are customized to your tastes and preferences. Meals, wine pairings and spirits as well as on property activities (aside from spa treatments) are included in the rate of this adults-only retreat.
Twin Farms aims to be your second home, and prides itself on maximizing privacy and truly transporting the mind and body somewhere else!
The Ocean House
Watch Hill / Westerly, RI
about 1.5 hours from Boston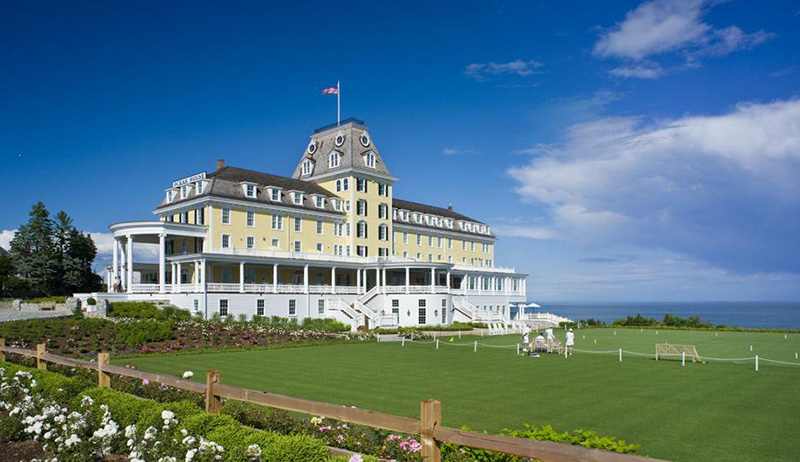 Also Relais & Chateaux, The Ocean House has been meticulously reconstructed and showcases some brilliant views of the ocean! It is open year-round and is best known for its elegance, personal service and beachfront location. The seasonal area is home to the oldest operating carousel in the United States as well as some shops, restaurants and long walks on miles of beach! The property can accommodate guests of all ages and most sizes with standard rooms, suites, signature suites and cottages.
While here, guests can enjoy the only private beach in New England with its white raked sand and clear waters – and of course, beach service! Activities include fitness, wine, culinary and art classes as well as croquet clinics and movie screenings, to name just a few. For families with young children, there's Sand Castles children's program – packed with loads of fun and excitement for the kiddos. Babysitting is also available. Staying at this turn of the century seaside escape is an experience like no other and one that's sure to create lasting memories of a New England summer.
White Barn Inn
Kennebunkport, ME
about 1.5 hours from Boston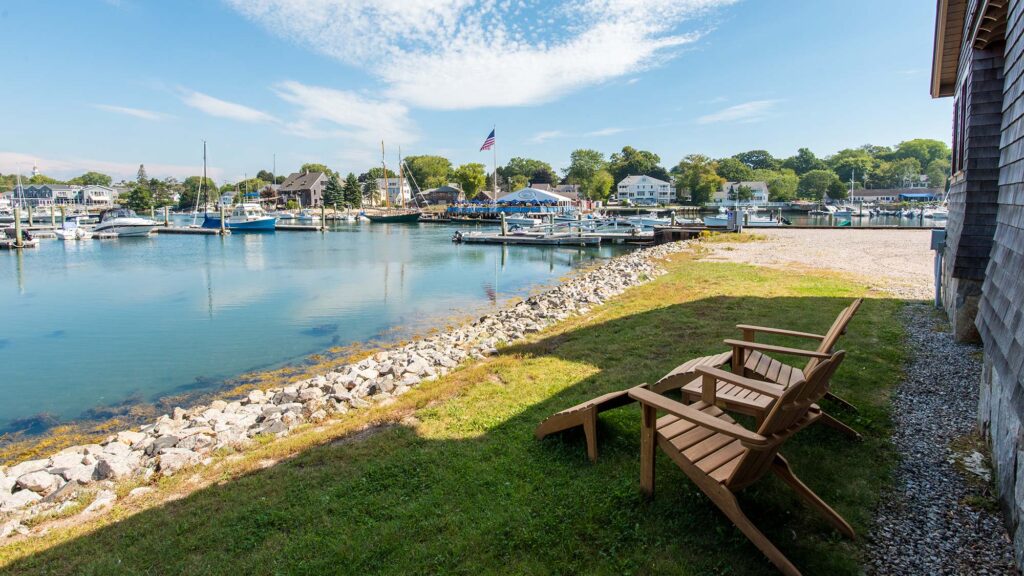 This sophisticated and stylish inn, located in the adorable coastal town of Kennebunkport, offers guests quintessential New England experiences like exploring sandy beaches, touring lighthouses, fishing, cycling through wooded trails, gardening and so much more! With quick access to town, guests are sure to enjoy local boutiques, galleries, antique shops, and picture-perfect moments the area has to share.
Private experiences can also be arranged such as cooking and wine-tasting classes, private cycling tours, guided lobster fishing excursions, and sailing trips. The dining at the inn's restaurant is an experience like none other from the ambiance to the contemporary New England cuisine.
There are 26 beautifully restored rooms and suites in the landmark inn, as well as private waterfront cottage options, which combine space, privacy, and views. Staying at the Inn is simply just a charming way to spend your Maine vacation.
Chatham Bars Inn
Chatham / Cape Cod, MA
about 1.75 hours from Boston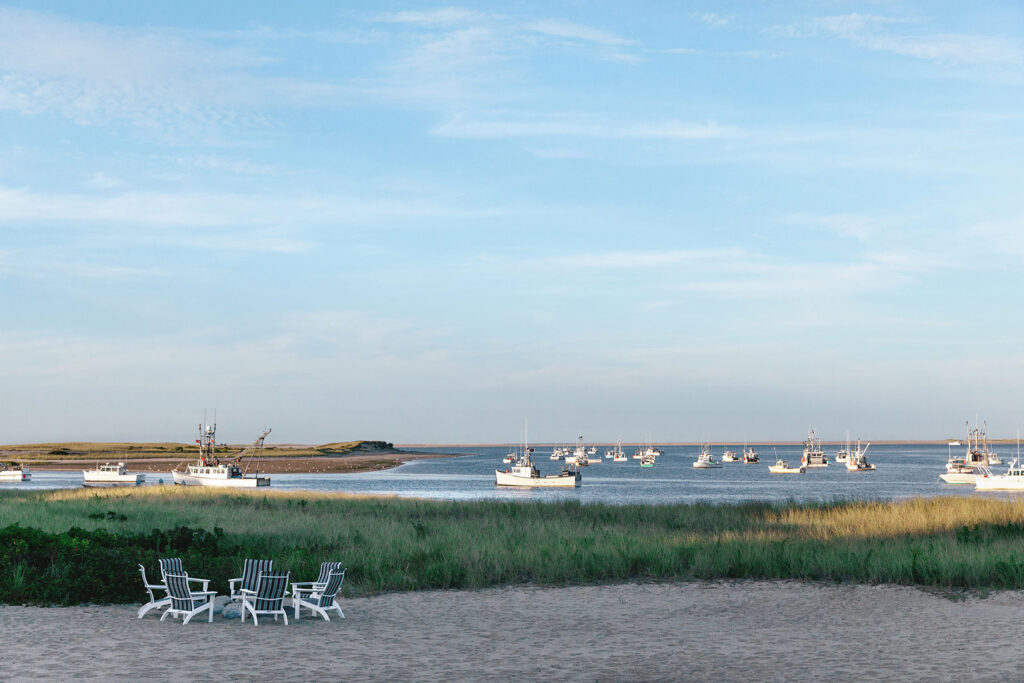 Pristine, classic New England beaches, and the quaint shops of downtown Chatham all are just footsteps away from your stunning accommodations at Chatham Bars Inn. Witness stunning ocean-side sunsets as well as fishing fleets heading off for the day. Popular family activities include fishing, golf, tennis, a kids club, and of course — beaching it for the day!
The accommodation options are spectacular and are comfortable for families of all shapes, sizes and ages. There are rooms in the main inn as well as spa suites and cottages. Each offer elegance, privacy and luxury in its own way.
While there are many incredible dining options on-property and off, one unique aspect of the Chatham Bars Inn is The Farm. Situated on 8 acres and a short drive from the Inn, the farm grows the freshest seasonal greens and vegetables and serves as the inspiration behind the culinary teams' creativity. A stay at Chatham Bars Inn is the perfect home base for your Cape Cod experience!
---
If you enjoyed this blog post,
we welcome you to read our others too!