A ranch stay is always an exciting idea and now more than ever travelers crave wide-open spaces, privacy, and fresh air. Add to this majestic landscapes, endless activities, starry nights, fabulous accommodations, and delicious cuisine, and you have the perfect escape! From chatting on a trail ride to laughing beside a campfire, a ranch vacation gets you away from everyday distractions so you can spend quality time with those you love. If we've piqued your interest just a bit, read on to learn more about our ranch partners in our luxury Ranch Vacation travel guide – and when you're ready, let us get you there!
The Resort at Paws Up
Greenough, MT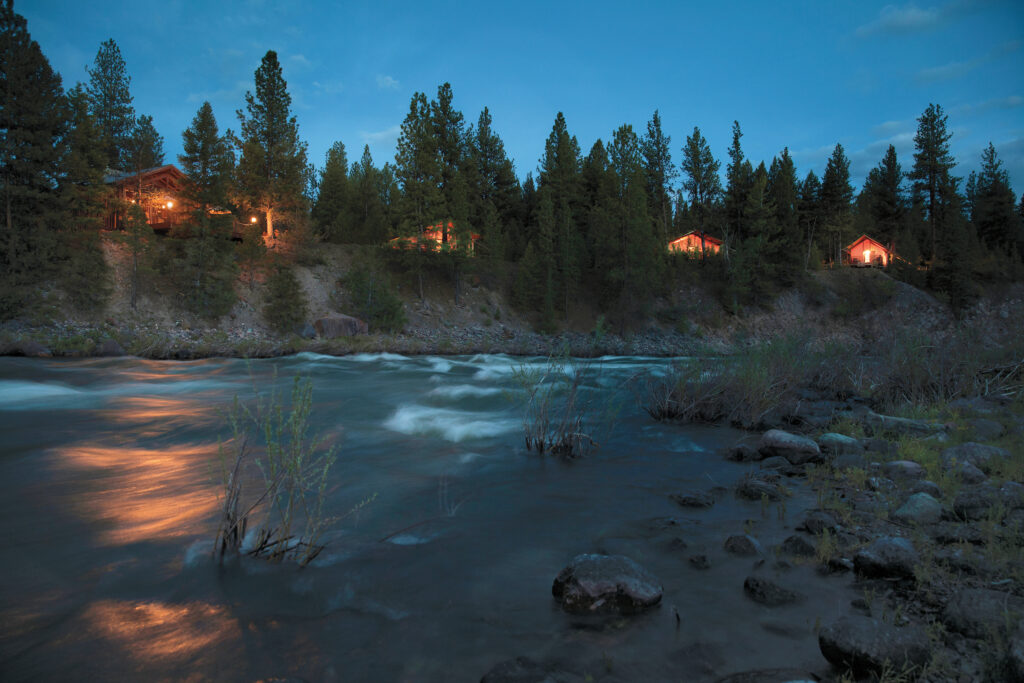 Size: 37,000 acres
Best known for: 100 miles of trails, 10 miles of the Blackfoot River and 1.5 million acres of the nearby Bob Marshall Wilderness Area make it the ultimate outdoor playground for adults and kids alike! It is a perfect getaway for multi-gen trips.  Families can take over a few luxury homes or a whole camp site.  Kids of any age are welcome and there is a kids' camp for ages 3 to 11. Popular whole family activities include photography tours, ghost town tours, canoeing, wagon rides, and more! One family wrapped up their trip by saying: "The resort could be completely full and you would think that your family was the only one on earth."
Average length of stay:  Most families will stay one week in the summertime or over the holidays and in the fall, many couples will visit for a long weekend some, 4-5 nights.
Favorite guest experiences: With more than 40 activities available, it is hard to say, but the Cattle Drive and the activities on the river are always popular.  Fly fishing and river rafting on the Blackfoot River also are favorites!
Best time to visit: There is something for everyone, all year long! Each season brings something incredible and unique. Summer is traditionally the most popular, and the fall is amazing as there are many special culinary events featuring masterful guest chefs and wine makers. The foliage absolutely is beautiful too! Over the holidays, Paws Up is truly a winter wonderland with fabulous winter activities including Skijoring! What is that you ask? Why skiing behind a horse, of course!
Extra nice to know: This award-winning destination has been penned "The Last Best Place." It is an esteemed Andrew Harper property and is located in a private, national park, with accommodations for all kinds of travelers: safari style tents, secluded tree houses, and luxury homes – and if you're a camper or a glamper, this place has something for you.
Brush Creek Ranch
Saratoga, WY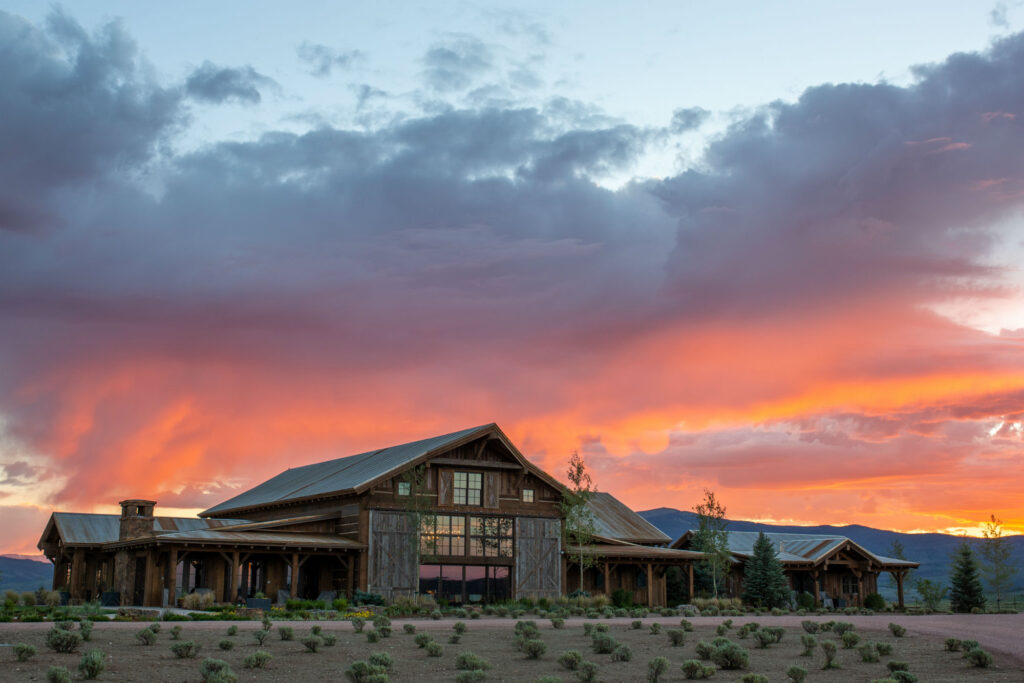 Size: 30,000 acres
Best known for: A "once in a lifetime meal at the Cheyenne Club at the Farm at Brush Creek" and according to one guest, "while the Ranch's 30,000 acres are spectacular, the thing that really will keep us returning is your incredible staff!"
Favorite guest experiences: Horseback riding, fly fishing, gun club, archery, hiking, mountain biking, the resort's kids' program 'Lil' Ranglers' and yoga on Falcon Peak.
Average length of stay: There is a 3-night minimum but most families stay for one week.
Best time to visit: Peak season is July and August and since the resort is located at 7,500 feet altitude, summer is lovely with typically mild summer temperatures in the seventies and eighties. Late September/early October is also beautiful when the autumn leaves are in full display. The 'hidden gem" time to visit is during the winter season (Holidays-late March). With the opening of the resort's new private ski mountain last year, there is now even more to do during the snowy season – and the Ranch is so unbelievably cozy and peaceful during this time!
Extra nice to know: This is one of the top-rated ranches in the USA. It is a working cattle ranch and the Brush Creek Luxury Ranch Collection contains three unique properties, each with its own demographic. At the Lodge & Spa, multi-generational families are the norm. The property's motto is to create and deliver indelible memories as vast as the western skies. They are honored to serve these families, creating memories that will last a lifetime. The Relais & Chateaux Magee Homestead provides an adults-only experience (21+). The most common demographic there is couples. Lastly, the French Creek Sportsmen's Club caters to the more experienced angler, hunter or outdoorsman/woman.
The Ranch at Rock Creek
Philipsburg, MT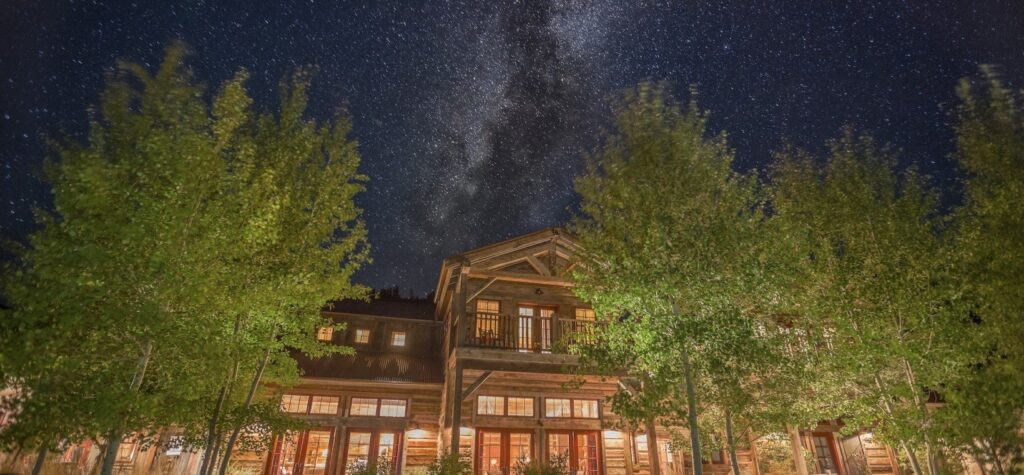 Size: 6,600 acres
Best known for: Level of service, incredible staff, personal touches
The most prominent compliment received is regarding the resort's level of service/staff. They pride themselves on their exceptional team of loving and genuine staff members who pay serious attention to detail. It is the type of property that will overhear guests say they enjoyed the cookies and then have some freshly baked in their room at turn down! Activities and food come in close second.
Average length of stay:  Most guests stay the 4-night minimum in Summer and 3 in the off-season. 
Favorite guest experiences: Fly fishing, art in nature, horseback riding, fly fishing, kids club, mountain biking, hiking, sapphire mining, wildlife viewing, ranch rodeo, rifle range and yoga.
Best time to visit: Truly no bad time. For example, Summer is the best time for families who want their children to enjoy playtime with others, or fisherman who are eager to catch the stonefly hatch. Winter is also an excellent time for those who are budget conscious as our rates are lower. Spring and Fall are great for those wanting to avoid the big family crowds.
Extra nice to know: This Relais & Chateaux property is the world's first Forbes Travel Guide Five-Star ranch and the only US charter member of the National Geographic Unique Lodges of the World collection.
We sure hope our luxury Ranch Vacation travel guide information makes you realize just how many fabulous memories can be made on a ranch vacation. It is meant to simply 'wet your appetite' just a bit and we look forward to digging deeper into each destination with you. As always, by booking with us, we'll always pass on our Virtuoso amenities to you as well.
---
If you enjoyed this blog post,
we welcome you to read our others too!