Hawaii has always been a popular destination and with good reason. There is enough beauty and activity in these islands to fill a lifetime of vacations. So it comes as no surprise that today – as travelers seek out domestic destinations to satisfy their craving for a beautiful beach vacation while offering privacy and safe adventures in the great outdoors – Hawaii comes out on top. In our Hawaii Luxury Travel Guide, you'll see a few great hotels and destinations to consider.
While we have luxury resort partners throughout The Aloha State, we held a Q&A session with a few of them, so that our Saddle Hill Travelers could get an idea of some of the unique experiences and 'special somethings' about their resort properties.
4 Choices for Luxury Hotels & Resorts in Hawaii
Mauna Lani
Kohala Coast, the Big Island
Auberge Resorts Collection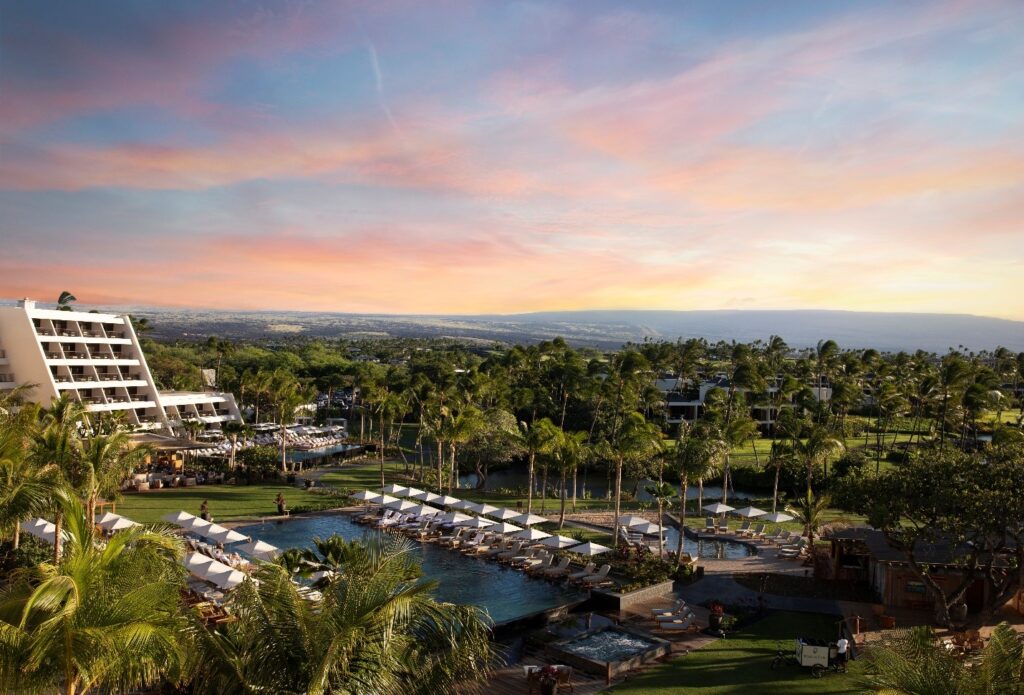 Perfect for all ages! While the accommodation options are plentiful here, one of the most popular for families and multi-gen groups is the private bungalow. These bungalows have their own kitchen, pool and hot tub. The resort itself also has three separate pools for all guests to enjoy: the main Resort Pool for families, a separate Adults Only Pool, and even a Keiki pool with play structures for children!
Special experiences and must do's? Staying true to its name's meaning, Mauna Lani, which means mountain reaching heaven, truly offers guests some spectacular experiences. For example, there is a wonderful story hour on property that shares the mythology and history behind the resort's ancient fishponds as well as a daily "Turtle Talk" so guests get to know all they need to about these adorable creatures and other area wildlife. And, one absolute 'Must Do' is spending time on the water with the resort's own Kainalu Sports pros. Kainalu Sports is the Mauna Lani's innovative approach to resort activities and is a recreation program unlike any other in Hawaii. These watermen and women are passionate about sharing a glimpse into their daily lives and teach guests to sail the outrigger canoe at sunrise or to ride the waves, along with many other fun activities.
What guests have to say? They love how genuine the resort employees are, especially at Kainalu Sports and at the Living Culture program, where guests learn about so much wildlife. They leave the Resort having made new friends and can't wait to return in the future to see them again.
Montage Kapalua Bay
Lahaina, Maui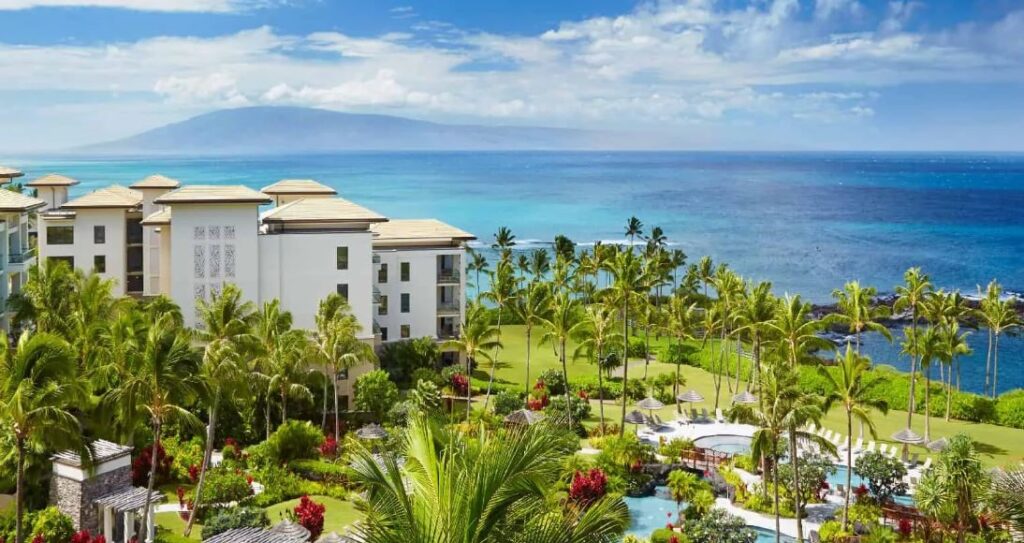 This resort offers luxury at its finest. This lush 24-acre oceanfront resort is a 5-star Forbes property (1 of only 5 in the state) and the Spa is the first and only 5-star spa in Hawaii. It offers gorgeous multi-suite residential-style accommodations up to four bedrooms (the largest is 4,000 s.f.), each with a gourmet kitchen and spacious lanai. Pool time is a focus for many, and with 7 to choose from, 2 of which are dedicated to adults only, there's a right vibe for everyone. For watersport enthusiasts, sky's the limit at the private Beach Club – where paddleboards, sailboards, and surf lessons are at the ready. Tennis and golf here are world-class too!
Special experiences and must do's? The luxurious residences are the standout feature of this resort and few properties in Hawaii offer this combination of accommodation amenities with resort access. It's also in a great location so guests can truly take advantage of all that the area offers. Whether you're up for exploring the small beach town of Paia, hiking Haleakala National Park, or chartering a boat for sport fishing, the Montage Kapalua Bay makes for the perfect home base for your stay on Maui. You may never want to leave!
What guests have to say? Guests tell us our accommodations and location are unmatched and our service is Hawaiian hospitality to the next level. One guest said, "The Montage was SPECTACULAR…all the excursions were perfect and dining – excellent." Note: One of our Saddle Hill Travelers loved the kitchen in her residence so much that she used many of the design elements in her own kitchen remodel.
Grand Hyatt Kauai Resort & Spa
Koloa, Kauai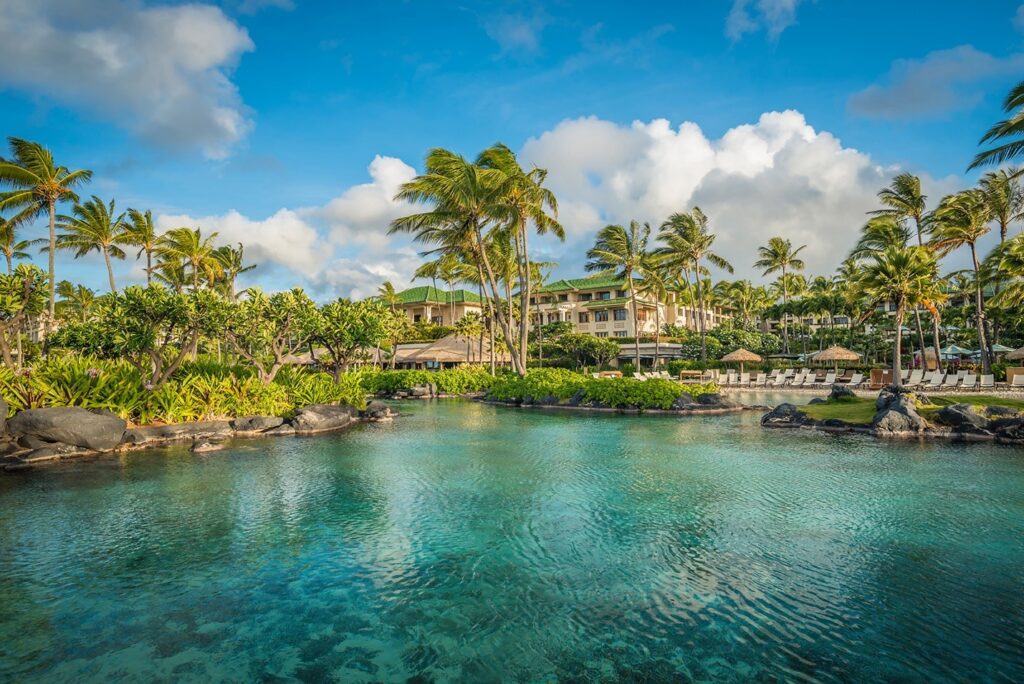 Perfect for all ages. This resort is celebrating 30 years this year, and many guests now are returning with their grown families. It unfolds on 50 oceanfront acres so appeals to many demographics without anyone feeling crowded. Families, couples, & multi-gens all enjoy the property for a variety of celebrations including the holidays, spring break, birthdays, anniversaries, and of course, honeymoons.
Special experiences and must do's? There are so many great on and off-property choices! Here, the pools are always a favorite. There are multi-level pools and include an adult pool area, a lazy river, a 50-ft waterslide (fun for all ages), and a huge (1.5 acre) saltwater lagoon adjacent to the ocean. The dining options are wonderful too. Tidepools offers Hawaiian-style dinners in thatched-roof huts set over a lagoon. The restaurant's garden greens even come straight from the resort's hydroponic garden. Favorite things to do in the area? Waimea Canyon & Kalalau Lookout on the westside, Hanalei bay on the north side, and Wailua Falls on the east side. It is really a great island for soft adventure, with lots of beautiful hikes. There is a nice bike/walk path that runs for miles on the east side as well. Bikes can be rented nearby along with horseback riding, ATV adventures, surfing lessons, and Spouting Horn, which is a noteworthy blowhole.
What guests have to say? There is a true feeling of 'Aloha' that they get from the staff and they always leave feeling part of the resort's ohana (family).
Four Seasons Lana'i Resort
Lana'i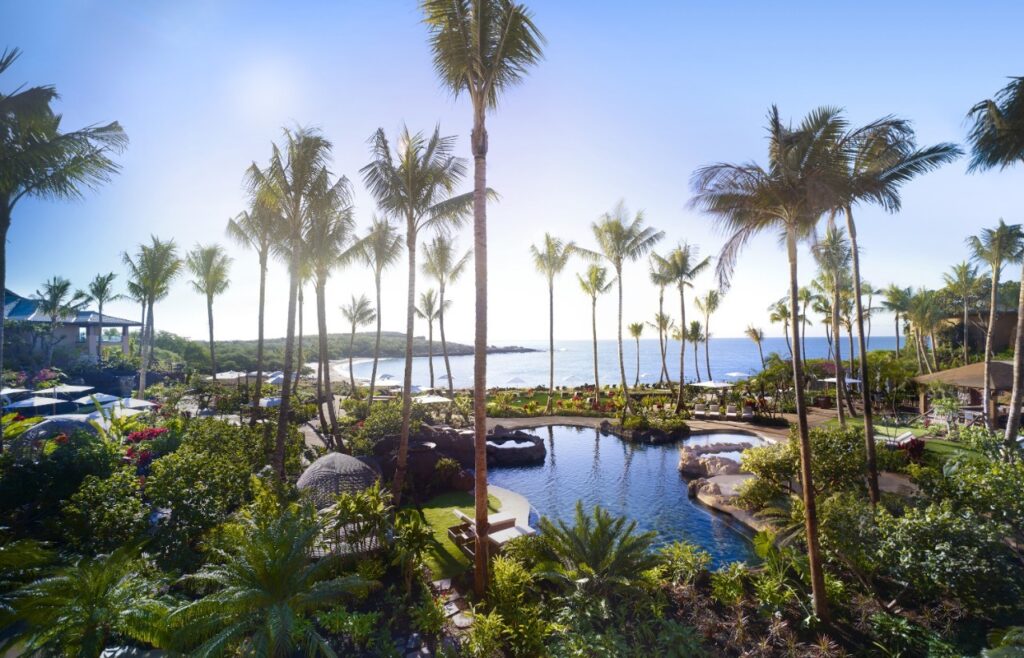 One of the most luxurious and exclusive hotels anywhere, with suites of all sizes and shapes to accommodate the young and old. This secluded, oceanfront resort also offers a youth program in a designated area of the resort so that mom and dad can have some downtime too.
Special experiences and must do's? Take a short walk to the resort's splendid beach area to enjoy a variety of water activities or simply to enjoy the sights and sand. Or, if sitting poolside is a preference, the lagoon-style pools are fabulous! There are botanical gardens onsite, the Hawanawana Spa, and savory Japanese cuisine at cliff-side Nobu Lana'i, too. When guests are ready to experience some of the area's culture and surroundings, connecting with the resort's exceptional Cultural Advisors are a must. Based on your preferences, they may suggest driving a four-wheel Polaris UTV to explore the forests and cliff-side views or embarking on a 50-foot private catamaran to snorkel privately, view the humpback whales or simply to watch the beautiful sunset. Additional exclusive options include (but are not limited to) golfing on a championship Jack Nicklaus-designed Manele course, tennis, equestrian pursuits and maybe even a helicopter tour – exceeding guests' expectations is the priority!
Sensei Lana'i
Lana'i
a Four Seasons Resort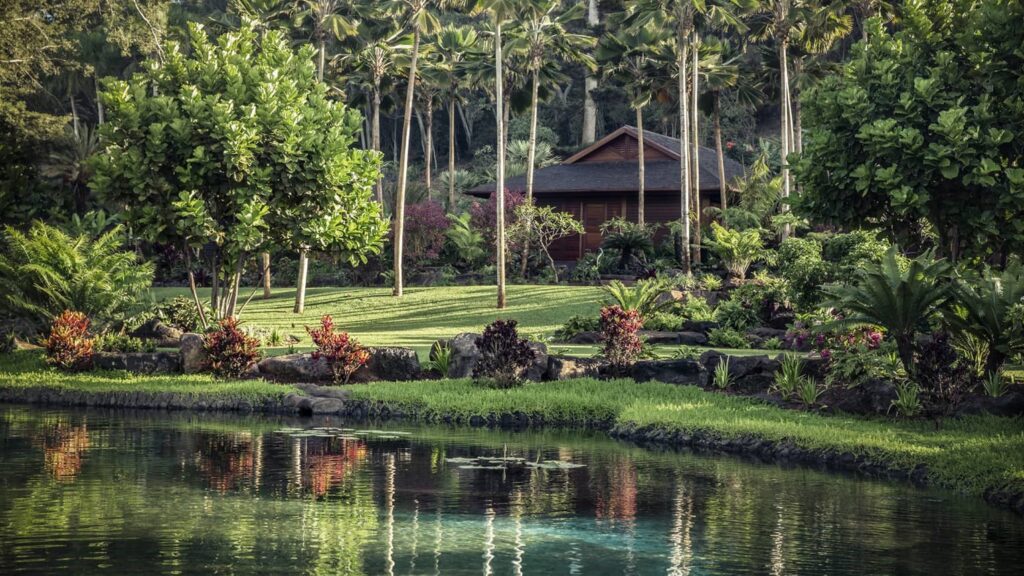 The luxury, wellness-focused adults-only retreat in Hawaii.
Special experiences? Guests receive an exceptionally curated itinerary that includes a private wellness consultation inclusive of spa treatments, fitness classes and island activities, as well as dining options by Nobu. Round-trip airfare from Honolulu on Lanai Air also is part of the resort's offerings too.
Must do's? Visit the charming plantation town of Lanai City to explore local boutiques, restaurants and art galleries. Maybe even arrange for your own private guide to help you get the ultimate experience at the Lana'i Cultural and Heritage Center. This area was once the largest producers of pineapple in the world! Here, you can learn even more or simply balance calm with adventure, and choose from a range of activities to get your adrenaline pumping as you explore the island up close. Sailing, scuba diving, horseback riding, golfing or UTV cultural tours all can be added to your itinerary as you wish.
What guests have to say? The resort's unmatched hospitality, reputable experts and extraordinary setting combine and allow guests truly to connect with themselves and find peace.
All of these resorts & hotels mentioned in our Hawaii Luxury Travel Guide are simply amazing and our partners assure guests that every attention to detail will be followed, with safety and security at the forefront. At the time of writing, these properties are scheduled to re-open to non-Hawaii residents on August 1, however, the situation remains fluid, and travel restrictions can and do change. Visit the CDC's State & Territorial Health website along with state and local agencies for the latest travel information, restrictions, and requirements. https://www.cdc.gov/publichealthgateway/healthdirectories/healthdepartments.html
When it's safe to travel and you're ready to go, we're ready to get you there!
---
If you enjoyed this blog post,
we welcome you to read our others too!